The Jerusalem Biblical Zoo
When it comes to Jerusalem, everyone knows it's a city highly famous due to its historical, religious and cultural importance. Not only does this city has importance in Israel, but also in the world and is one of the highest visited cities and tourist attractions in Israel, But did you know it has a zoo that contains animals who are mentioned in the Bible? Interesting right?? Well, that's true!! That is why the zoo is named The "Jerusalem Biblical Zoo" because the animals it includes are mentioned in the bible.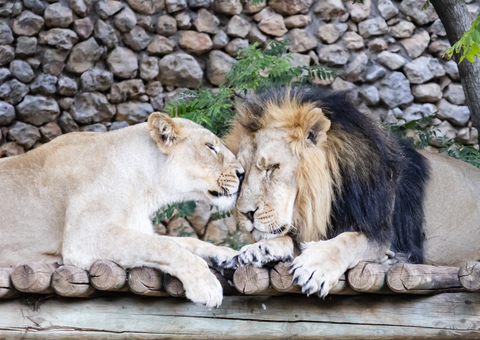 The zoo is one of Israel's biggest tourist destinations and is a family destination that you can visit without any worries. The zoo covers about 62 acres of beautiful terrain on the south of Jerusalem. The center of the park includes a vast lake manmade lake including waterfalls, pools, beautiful shaded lawns and other attractive spots. The park also consists of freely roaming animals in wildlife, and a special visitor's train to give them a tour around the zoo. There are about 170 animals, you'll find here who have been mentioned in the bible so it's a great place for entertainment as well as educational purposes.
History of Jerusalem Biblical Zoo As per the history, the Jerusalem Biblical Zoo used to be a small animal corner on the Rabbi Kook Street in Jerusalem. The zoo was founded by Mr. "Aharon Shulov" a professor of Zoology in Hebrew University of Jerusalem, Mount Scopus. He developed this zoo to let the people of Israel know about various animals they see mentioned within the bible. The main goal of the open zoo was to fulfill educational purposes relating to the research of animals for his students. During the development of the zoo, it was quite difficult to search for the mentioned animals as there were quite uncertain such as; "nesher", known as "eagle" could also mean "vulture." Furthermore, some animals came to extinct due to overhunting.
Regardless of all the problems occurring for the creation of this zoo, it finally came into existence on September 9th, 1993 with the name "Tisch Family Zoological Gardens in Jerusalem" or what you know by today, "Jerusalem Biblical Zoo."
What to expect from the Jerusalem Biblical Zoo Jerusalem's Biblical Zoo, also known as "Tisch Family Zoological Gardens" is among one the most beautiful and peaceful places to enjoy with your family and friends. It's a zoo containing animals who were mentioned within the bible. Although not all animals mentioned in the bible are found here however those, who are either in danger or about to extinct can be found here. The animals are given large spaces so they could roam freely within the zoo. Also, people are provided a special train to give a good view of the zoo. Here, you'll find about 170 animals with whom you can take pictures. The zoo also offers jazz events, workshops during the school vacations for kids, juggling for their entertainment, etc. Also, the zoo has exhibits but focuses less on cages to let the animals roam free.
The zoo also consists of a children's zoo, where you'll find a petting corner to give love to animals and a playground for your kids to play and have fun. Also, there is a snack bar, adjacent to the playground so that parents can keep an eye on their kids while they play. The Noah's Ark Sculpture Garden, located within the zoo is a new type of playground designed by various famous names for public entertainment. The visitor's center of the zoo, is shaped in a form of an ark, consists of an auditorium, computer stations, exhibits gallery, a souvenir shop, and a cafeteria if you ever get tired and hungry for traveling in the zoo for too long.
Important Information to Consider Whenever we visit a specific location, there is always important information we should consider while visiting the specific platform. As for the Jerusalem Biblical Zoo, important information is mentioned as follows;
• The zoo is open daily every year except for the days celebrating; Yom Kippur, Yom Hazikaron, and Yom HaShoah. • The train in the zoo does not operate on Saturdays and holidays • There are special membership cards available as well to avail. They are for couples, senior citizens, children, police officers, and families. • There is also a special 10% discount for Matmon/Isracard-Teva holders. • Discounts are only valid on their weekdays, not on Saturdays. • Opening hours along with ticket pricing keeps on updating every march, so keep checking it by visiting their official site https://www.jerusalemzoo.org/Check out their rules and regulations whenever visiting the zoo to avoid any conflicts and other problems.
Ticket Pricing • Tickets available for Adults = $ 16.79 • Tickets available for kids 18 years and under = $ 12.74 • Tickets available for Senior citizens, disabled, soldiers, police officers= $ 12.74
Membership Pricing • Adults =$83.96 • Couples without kids = $ 147.66 • Couples with one kid = $ 170.82 • For senior citizens, disabled, children, police officers, soldiers = $60.80
Timings • Sunday to Thursday: 9:00 AM to 5:00 PM • Friday & holidays : 9:00 AM to 4:30 PM • On Saturdays: 10:00 AM to 5:00 PM
Israel Aquarium The Israel Aquarium is located adjacent to Jerusalem Biblical Zoo and is just about 1 km at a distance from it which is not too much. Since you have gotten information regarding all the animals of the wild, why not try searching for animals of the sea? That's right!! Why not go for aquatic animals as well. This will be a plus for your animal adventure as you'll not only get to see creatures of the land, but also creatures of water. If you want to purchase a ticket for the aquarium as well, then make sure to book for an advance on their website at https://www.israel-aquarium.org.il/english. The ticket price for adults for the aquarium costs about $ 14.48 whereas, for kids, it costs $13.03. Keep in mind photography with flashlights, and food isn't allowed there.