7 great vegan food options available for you in Tel Aviv
Tel Aviv is one of the great places in the world to enjoy vegan food. It is no longer a novelty: the entertainment capital of Israel is recognized for its endless and renewed offer for vegans and, in fact, there are several gastronomic tours in which you can try delicious ice cream without milk or plant-based Mexican food. We invite you to get to know our list of essential vegan restaurants, ranging from informal bars to haute cuisine.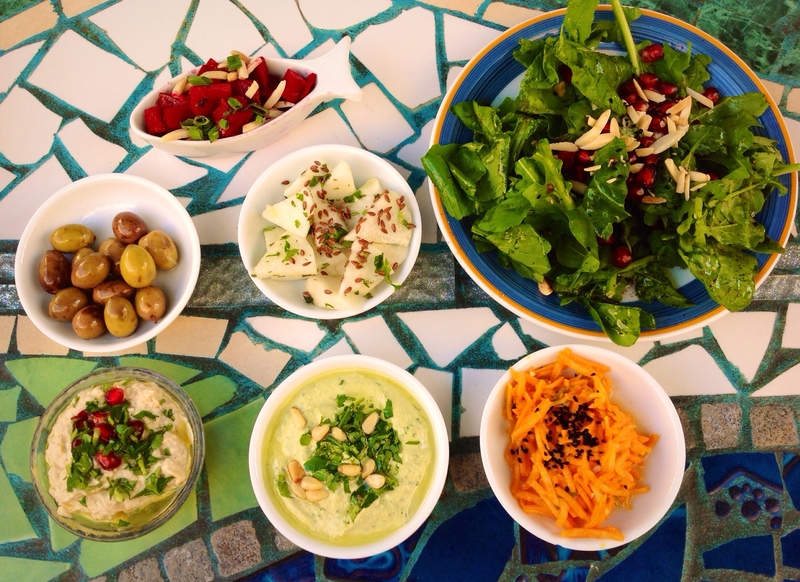 Café Anastasia, Frishman 54, Tel Aviv. Banner of the classic lifestyle of Tel Aviv, this is the first Israeli vegan cafeteria and is known for a fresh and tasty menu with gluten-free and raw food options but also for its classic "veganized" dishes such as melted chocolate cake and The artichoke papardelle. Anastasia serves organic coffee with a selection of four milks of vegetable origin (including almond milk prepared daily on site) and sells high-end products that delight vegans. If you go through the famous corner of Frishman and Dizengoff, do not forget to try this reference of the green circuit of the city.
MeshekBarzilay Deli, AhadHa'am 6, Tel Aviv. MeshekBarzilay Deli, a vegan and vegetarian food bar, organic supermarket and juice bar in the artistic Neve Tzedek neighborhood of Tel Aviv, is an extension of the already popular MeshekBarzilay restaurant, one of the first to bring food "from the farm to table". The store, which opened 17 years ago, offers fresh organic vegetables, artisanal liquor, freshly cut flowers, homemade bread, jams and more. Prepared foods include homemade versions of Israeli and Mediterranean dishes, such as jraime (spicy fish from North Africa) of tofu and seaweed and the exquisite spinach lasagna. These are two of the star dishes of visionary chef MeravBarzilay.
Zakaim ,Simtat Beit Hashoeva 20, Tel Aviv Zakaim, a vegan boutique bistro with a vintage twist, is famous for Persian-Israeli-style food from chef HarelZakaim. With an eclectic and seasonal menu, if you arrive on the appropriate day you can find its classic homemade vegan ricotta dish with olive oil, zahatar, olives, tomato and chili, or homemade french fries, which are served in a paper bag with delicious condiments Homemade. Safety pin!
OPA, Ha-Khalutzim 8 (ShukLevinsky), Tel Aviv Recently opened in the colorful shuk (market) Levinsky of southern Tel Aviv, OPA is owned by the extraordinary chef Shirel Berger. In general, the menu has between five and seven dishes that can be combined with a collection of 15 organic and biodynamic wines. OPA works exclusively with products from a farm located 40 minutes north of the city. Berger creates Mediterranean-fusion style dishes such as pumpkin with smoked maple sauce, jalapeño and lemon, or guava with macadamia milk, fermented dough crumbs and betel leaves.
The Green Cat Levontin 7, Tel Aviv The Green Cat is a vegan pizzeria in the heart of Tel Aviv that specializes in thin-crust pizzas made with fresh, high-quality ingredients such as pepperoni and vegan cashew cheese (soft and nutty), and Homemade soy mozzarella. The owners of the Green Cat also created Sultana, the first vegan shawarma in the city, where the traditional dish is prepared with slowly roasted forest mushrooms. With its remarkable pizza, The Green Cat put its grain of sand in the diversification of the Tel Aviv vegan food scene.
Bana, Nahmani 36, Tel Aviv Chefs Dan Arvatz and JanokShechter are the architects of delicacies that Bana serves local and foreign customers seeking a higher vegan dining experience in Tel Aviv. Ingenious, self-taught and always willing to risk, this duo is also behind the preparation of breads, cookies and gluten-free vegan products. In Bana, for dinner, dishes such as pumpkin with coconut cream and black pepper and beets burned with persimmon in orange syrup and cashew cream are some of the recommended ones.
Tenat (Ethiopian vegan restaurant), Chlenov 27, Tel Aviv If you never tried Ethiopian food, this can be an unforgettable first experience. Tenat is the creation of Yitzhak Hizkiyahu, one of the few restaurateurs who dared to open an Ethiopian restaurant in Tel Aviv "for all" in an attempt to share their cuisine and culture with the local public. Tena, another jewel of the vegan circuit in the south of the city, serves a variety of salads made with organic vegetables, grains and fresh vegetables, as well as exquisite stews ready to be thrown over the injira , the traditional Ethiopian pancake. In addition, you should try craft beer extra strong, another brand of the house. If you're lucky, maybe Hizkiyahu himself will serve you.
In Israel, vegans are becoming more in, so to speak. With a population of only 8 million people, the country has an estimated 200,000 vegans, most of whom live in Tel Aviv. It based on these data, it is not surprising that the offer is wide. And if we add that the city is fashionable, a getaway to know it is no nonsense. Tel Aviv is a modern, amazing and fun city, with great beaches ideal at this time of year when it is still not too hot. A city with a great, vibrant atmosphere, a creative and innovative city, with a unique nightlife, heritage, museums, music, and how you see, good gastronomy. Vegans of the world, this is your destiny.