Select Date and Travelers (2 easy steps to complete order)
Free cancellation up to 24 hours before activity starts
Caesarea, Haifa, Acre and Rosh Hanikra Tour (From Jerusalem) Description Book now
Caesarea, Haifa, Old City of Acre & Rosh Hanikra Grottoes. Pickup and Drop off from hotels at :Jerusalem and Tel Aviv
About this activity
Printed or mobile voucher
Rapid confirmation
Live guide

Pick-up service
Secure Payments
Hilights & Itinerary
We leave Tel-Aviv and travel up the Mediterranean coast, on the way we pass Herzilya and Natanya before reaching our first point of interest Caesarea. The city of Caesarea was constructed under Herod and named after the Roman Emperor, Caesar. From what remains of the ancient city we can see that it was a prosperous and luxurious city. Among the archaeological excavations, we can see gateways, a moat, and well-preserved walls and rooms. There is a perfectly preserved Roman amphitheater that is still used today for performances by Israeli and international artists. The Roman remains were preserved for centuries by the sea sand which covered and protected the stones. Next to the amphitheater is part of what was once a hippodrome. We can see the remains of a Roman Temple which stood above the port overlooking the busy commercial ships which carried treasures from the east and the Nabatean caravans which were on route to Rome. Following the Romans, the city stood neglected for centuries until the Crusaders arrived but in the years after the Crusaders, the city once again sank into oblivion.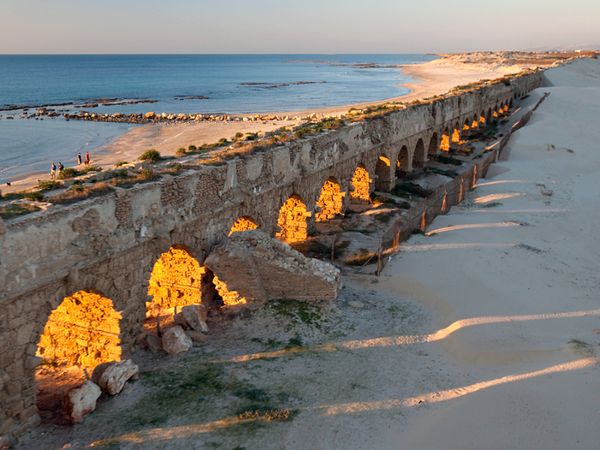 We continue driving north passing through Haifa where we stop to see the breathtaking Baha'i Shrine and gardens. The terraced gardens cascade down the mountain towards the city below, each of the 19 terraces bursts with colorful flowers and landscaped designs. Our next stop is at Rosh HaNikra, the most northerly point along Israel's Mediterranean coast. We descend by cable car into the network of limestone grottoes created by the constant bombardment of waves against the rocks. On our return journey south we stop at Acre (Akko), the largest Crusader city in the country. The city is extremely well preserved and you can't help being impressed by the incredible architecture and how it has survived. Part of the city is alive with markets and people still living in the ancient buildings.
We see the walls and moat which were reconstructed and repaired by El Jazzar at the end of the 1900s. The mighty walls prevented even Napoleon from conquering the city. We can see the Crusader remains, the prison used under Turkish rule, and the gallows which were used under the British Mandate to hang Jews who broke the British law limiting Jewish immigration to Palestine following World War II.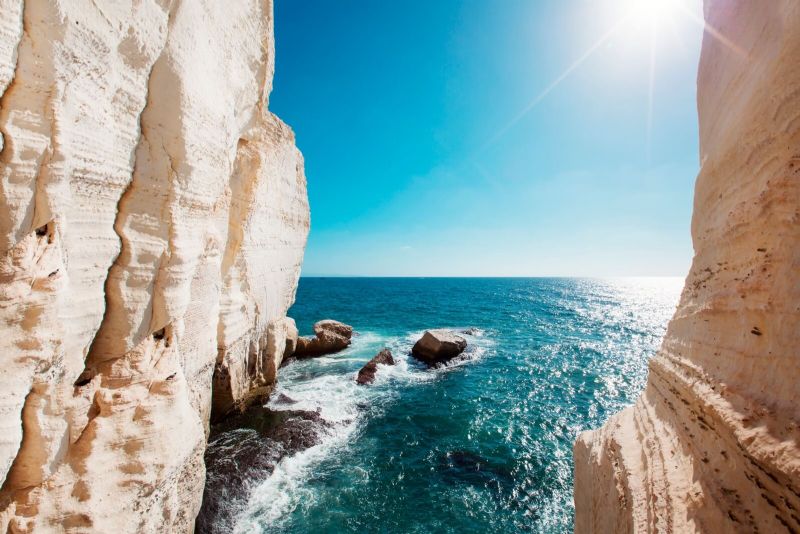 Guaranteed departure - makes your trip planning much easier and gives you complete peace of mind
Choose your tour language: English, Spanish, French or German
Join the tour directly from your hotel and enjoy a high-quality touring experience for a fair price
Drive-up the Mediterranean coast stopping at Caesarea, Acre, and Haifa
In Caesarea, see the 2,000-year-old remains of the Roman amphitheater and hippodrome
Travel to the northern extreme of the country on the Israel-Lebanon border and tour the white Rosh HaNikra caves
In Acre tour the Crusader city and see the incredible Ottoman-era Old City
Explore More...