Christmas Eve Jerusalem Sightseeing with Dinner and Midnight Mass in Bethlehem 2019
Christmas Eve in Bethlehem Tour - Midnight Mass. Enjoy a holiday dinner and Watch Midnight Mass in Manager Square. Our holiday tour takes you through the Christian religious sites in two prominent locations - Jerusalem and Bethlehem. These 2 cities are intrinsically linked to the birth of Christ. on 24 of December 2019
Our Special Christmas Eve tour of Bethlehem at midnight mass, This is the day..when it all started ! On December 24 we will pick you up from Tel Aviv, Jerusalem and Herzliya​ Eilat, Dead Sea , this holiday tour takes you through the Christian religious sites in two prominent locations - Jerusalem and Bethlehem. These 2 cities are intrinsically linked to the birth of Christ.
Our tour begins on Christmas Eve in Jerusalem, at the entrance to the Old City, where you will travel through narrow streets to reach Dolorosa Companions and the Church of the Holy Sepulcher. After visiting these important and unforgettable sites, we leave the Old City of Jerusalem and start traveling through the New City of Jerusalem passing through Old Bethlehem and the Cross Valley. You will enter Bethlehem and immediately begin to feel the Christmas spirit come to life and watch the city adorned with glittering lights and banners and there is a festive feeling in the air.
You'll probably be hungry so we thought about it too ...possible without holiday food on this wonderful holiday? We will take you to enjoy a holiday meal, followed by a guided tour of Bethlehem, including a visit to the Dairy Cave and the Shepherd Field.
For the final part of the evening we will be heading for a tour of Manger Square to enjoy the festivities and watch the important thing called Midnight Mass. At the end of the Mass you will be transported back to Tel Aviv, Herzliya, Jerusalem and the dead sea, it will be a memorable Christmas Eve special and an experience unlike anything else. a once-in-a-lifetime tour experience.
Highlights
Visit the Church of the Holy Sepulcher and the Dolorosa area of ​​Jerusalem's Old City.

Feel the Christmas spirit when you see the city of Bethlehem, decorated with lights and banners

Enjoy an excellent holiday meal in Bethlehem.

Explore Bethlehem on a guided tour, including the Shepherd Field & the Dairy Cave.

Visit Manger Square, watch the Christmas tree and watch Midnight Mass at Manger Square.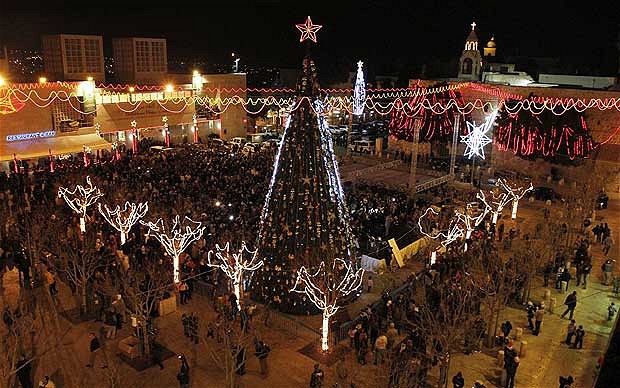 INCLUDED
Transportation in our newest models of air-conditioned cars/vans/buses.
English-speaking tour guide
Return coach to destination of departure.
NOT INCLUDED
Book early to make sure you don't miss out Christmas Eve in Bethlehem !