How to Get From Jerusalem to Petra
Petra is a fascinating site, one that you ought to plan a visit at least once in a lifetime especially if you're visiting Israel. One of the most frequent questions we get is how to get from Jerusalem to Petra. Getting to Petra from Israel is pretty easy and there are a couple of ways you can get there depending on your budget, timescale and your preferred mode of transport (you can drive or fly).
You can travel between the two locations every day of the week although border opening hours, tour schedules, and public transportation timetable may not make it easy to traverse on a daily basis. The change on Jordanian visa requirements from January 2016 did not change our tours from Jerusalem to Petra but they had a great impact on the ease of travel for individual travelers who don't wish to join a tour.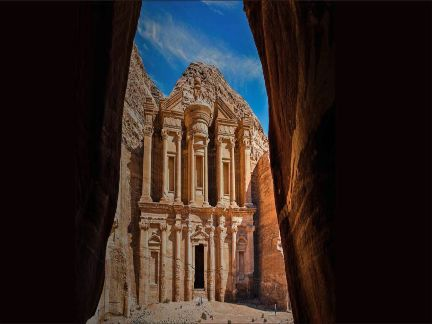 Travel from Jerusalem to Petra with a Tour We have the cheapest tours available every day of the week from Jerusalem to Petra. Since the Allenby Bridge Crossing isn't an easy route for travelers crossing into Jordan (you need a pre-issued visa), our tours from Jerusalem usually enter the Hashemite Kingdom either through Arava crossing in Eilat at the south or Bet Shean crossing in Northern Israel. Although the two routes may seem the longest compared to Allenby which is closer to Jerusalem, they are the most efficient ways especially due to convenience at the borders.
There are One day tours from Jerusalem to Petra available daily and they include $130 worth of entry fees into Petra. The tours involve traveling from Jerusalem to Eilat then crossing the border into Jordan via the Yitzhak Rabin/Wadi Araba border and then transferring to Petra. You return to Eliat later in the evening then proceed to Jerusalem. This is a very popular tour but we recommend it only to tourists with a rather tight schedule since it involves lots of traveling which can be daunting.For this reason, they also tend to be more expensive compared to two and three-days tours.
Two and three-days tours from Jerusalem to Petra are available a couple of times every week. They come in two variations and we recommend them the most since they give you a comfortable schedule, fantastic travel experience, and great value for your money as you can visit Petra at a leisurely pace and take all that it got to offer.
The two-day tour options available: • __Petra and Wadi Rum from Jerusalem__ ( one day at Petra and the other at Wadi Rum with an overnight stay in Bedouin Camp) And, • Petra, Jerash and Northern Jordan from Jerusalem ( the first day in Northern Jordan and the second day at Petra).
Our three-day tour is a combination of both of the above options featuring Petra, Wadi Rum and other highlights and attractions in Northern Jordan, an ultimate way to explore Petra from Jerusalem with excellent value and unforgettable experience. It's also possible to have a customized tour from Jerusalem to Petra as an individual or a group if you need to travel on a different day of the week or you simply prefer a private custom tour that includes other sites like the Dead Sea or Masada which can easily be incorporated.
You can travel from Jerusalem to Jordan via the Allenby Bridge Border but we recommend taking a bus from Jerusalem to Eilat and then proceed to Petra from there. You can first travel to Eilat overnight as night buses will leave you with a couple of free hours at Central Bus station. From Eilat to Petra, the best option is to take a taxi from the border to Petra- the fare from the border to Aqaba is approximately $15 then from Aqaba to Petra approximately $75 or a return price of $122 including the waiting time.
The best option is to join a tour since logistics and transportations are well organized plus they provide border assistance and pre-arranged visas.
So which is the Cheapest and the Best Way from Jerusalem to Petra ?
Though doable, independent travel between Jerusalem and Petra can be ridiculously expensive, and too much of a hassle especially when you weigh in time as a factor.We've based the comparison on a two-day tour since one-day from Jerusalem to Petra with public transport is impossible.